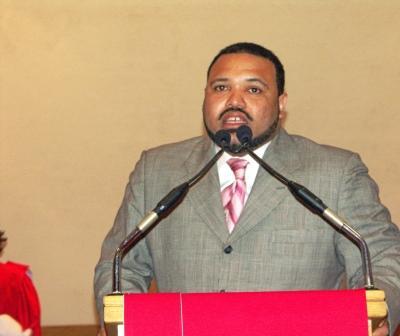 Reverend George C. Gilbert, Jr. of the Holy Trinity United Baptist Church was born October 10, 1974 in Landover, Maryland. Born the son of two God-fearing parents, Pastor George C. Gilbert, Sr. and Raba A. Gilbert, Reverend Gilbert was trained to reverence God. He was saved at an early age and has been blessed with many gifts and talents. He is a proud parent of two boys, and one girl: Xavier Domonique, DeMarco Trevon, and Kennedie Raba.

Reverend Gilbert is presently serving the Assistant to the Pastor, Director of Music Ministry, Vice President of the Board of Directors at The Holy Trinity United Baptist Church Community Development Corporation, Sunday Church School Teacher, Evangelism Council Co-Chair, Mens Ministry Facilitator, Board Member of the Ward 7 Safe and Drug Free Coalition, Director of DC Jobs or Else, Board Member of the East of the River Clergy Police Community Partnership and the Assistant Recording Secretary and Board Member of the Baptist Minister's Conference of Washington, D.C. and Vicinity.

Growing up in Washington , D.C. , Reverend Gilbert received his high school diploma from Eastern Sr. High. He further obtained his Bachelor of Arts in Business Management at the University of the District of Columbia . Later he earned a Master of Divinity degree from the Howard University School of Divinity, May 2005.

Currently, Reverend Gilbert is the CEO and founder of Gilbert Consultants, a company that bridges needed services to the disenfranchised. Also, through Rev. Gilbert's efforts, he is able to employ many persons throughout the metro area. Furthermore, Rev. Gilbert has made a mark in the Washington D.C. political arena. He believes that a prophetic voice must be sounded off. In this vain, he has served as the Special Assistant for Constituent Services and Religious Affairs for former Councilmembers of Washington, D.C. Rev. Gilbert is always advocating and advising behind the scenes fighting for Christ and His causes. He is the lead organizer and voice, in the metropolitan area, for a campaign against Construction companies who refuse to hire Washington, D.C. residents. The Howard University Alumni honored Rev.Gilbert with the Community Activist Award in 2002. On December 30, 2007, the Mayor Byron Brown of Buffalo, New York proclaimed that Day Reverend George C. Gilbert, Jr. Day. In August 2013, Rev. Gilbert was a convention speaker for the Progressive National Baptist Convention (PNBC). Lastly, the Washington Post highlighted Pastor Gilbert, Rev. Gilbert, and Xavier on Father's Day weekend 2013 for what they represented in the community.

Although Reverend Gilbert heard the call at an early age, he finally accepted, and preached his trial sermon May 1999. Reverend Gilbert believes that we are saved to serve and that a minister must follow Jesus' mandates and mission. He further understands that only what he does for Christ will last.